Three Islands: Travel Illustrations
Cakranegara, Lombok

At my grandfather's house, we are all a family. We eat together, play together, and love each other. The dogs and the chickens also love their family dearly.

At the courtyard there is a swing that every generation has been on since my great grandfather migrated from China to Indonesia.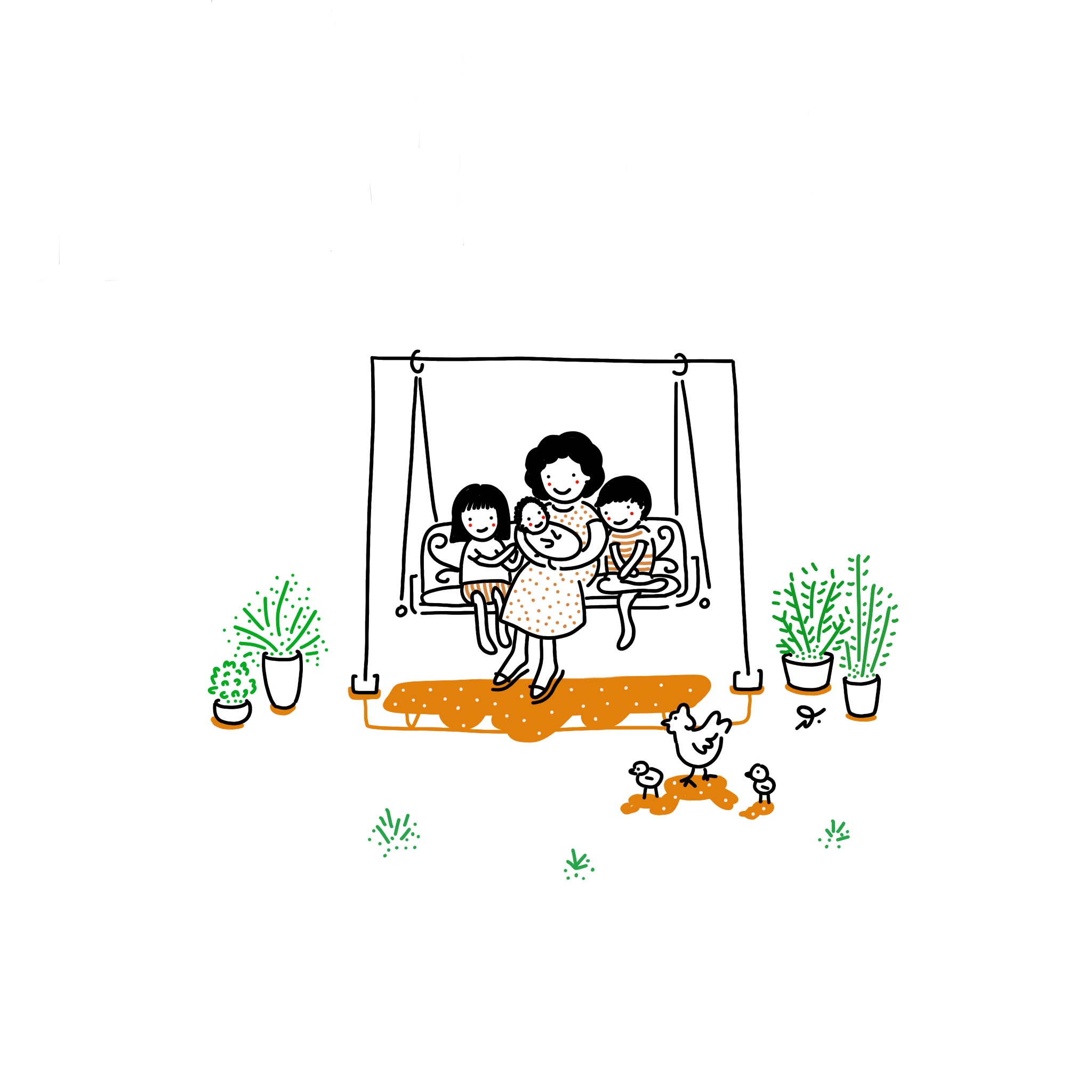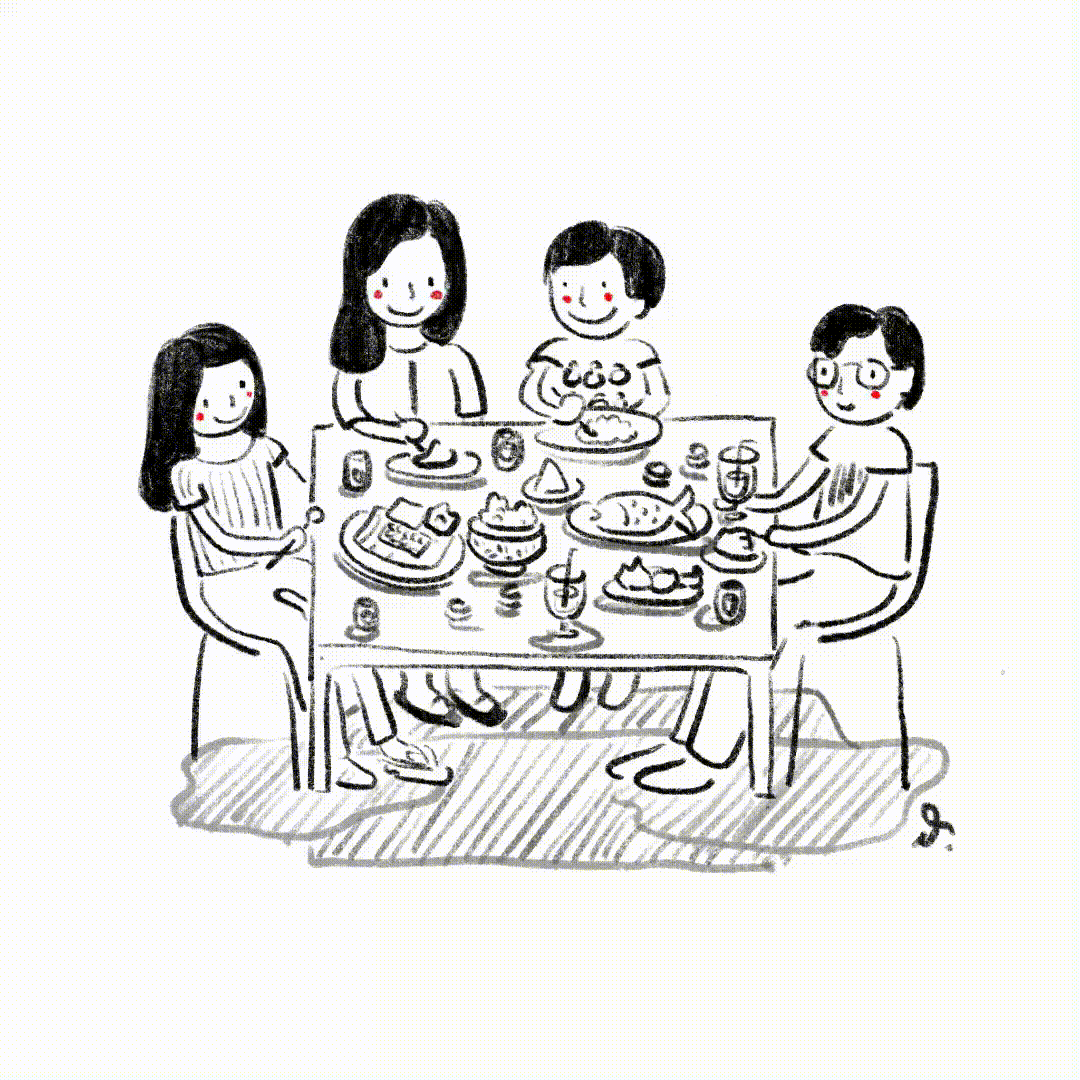 Rainy Day

At the front porch, I sat and enjoyed the heavy tropical rain washing over the plants. The chickens in various colors ran around, are they afraid or in love with the rain?

Friend or Food?

My friend asked. I said, they are pets. We just take their eggs.

Repose at the Rooftop
The rooftop where we hang clothes reminds me a lot of the "attic" that Gaston Bachelard, the French philosopher, talks about in his book
Poetics of Space,
that it is a place to dream.
I think it was when the tropical afternoon breeze swayed the clothes gently that it hit me that indeed the attic is a place to escape, to dream. My aunt has her old singer sewing machine here, and she would take the spiral staircase here and sew when feeling unpleasant. The spiral staircase itself is also essential. It is rusting and has these foliage-like metalworks placed at the end of one outdoor corridor where one washes clothes. And somehow this narrow corner of the house, I find it the most attractive.
Now the rooftop has a rocking chair, accompanied with many types of household plants. There is one called "Elephant's Ears."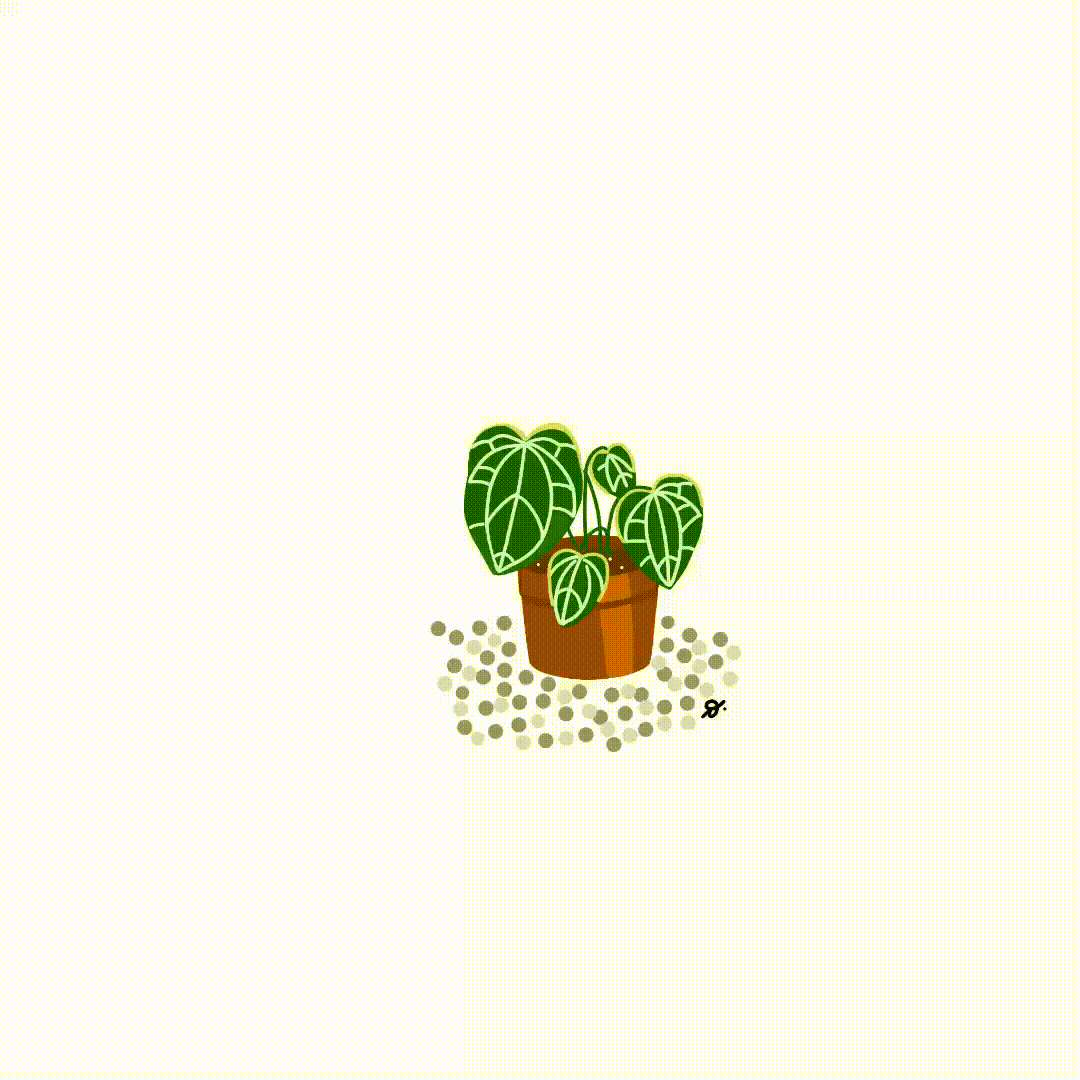 Our Happy Home

A house design is intimate, and there is a lot of freedom as a poet part of the architect, to think of associations like shadow, lights, sound and memories, because everything else kind of matters less - like I am zooming in so closely on framework. And shadow, lights, sound and memories are in every sense practical in this scale. It's not "too phenomenological" or "too poetic". It is actually really appropriate. Words to pay close attention to are things like, memories, relationships, conversations, warmth.

Abstract organization like sound, texture, shadow, light, can define spaces and interactions and activities, rather than walls and program. There is no "rooms" there is only "spaces". Contemporary and timeless, grounded and delicate, plain and rich. Not fancy but inspiring, not annoying but provocative.

Java: A Special Kind of Community

Friends from All Places

Going from Lombok Island to Java Island, I met people whom I felt like they were family.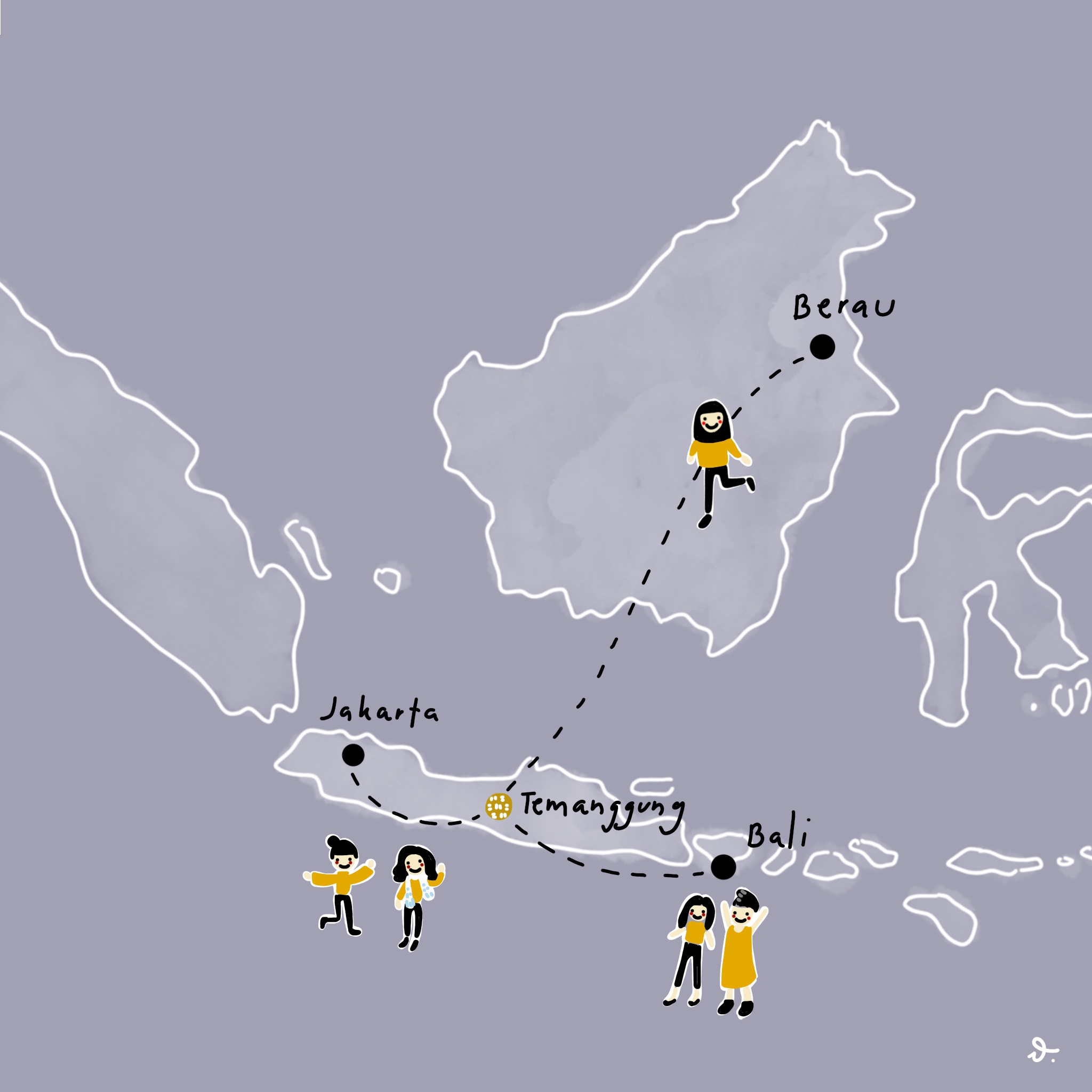 At the Bamboo Forest

We traveled to Papringan Market, a 100% local and organic market showcasing the natural and human resources of Temanggung. It was so special that it only attracted a certain kind of tourists - nature lover, researchers, heritage experts.
Bamboo Pavilions

It turned out that we all also stayed at the same hotel, just in different pavilions. During the day, the birds chirped. At night, the crickets sang.
Start with a Meal,
End with a Meal

From Lombok to Java, it felt like a happy home indeed.
Through and Around
In January 2018, I went to the Island of Bali to conduct a Master's thesis research on the future of the countryside of Bali. While the research itself focused on spatial planning and policy, I kept a visual diary to keep the sensual impressions and personal memories alive. After all, the urban and rural issues in Bali are not a mathematical problem, but a poetic one. Bali: Tropical Paradise is a curated selection of illustrations from the eleven days of travel. The trip was divided into two, the first path was from north to south, and the second was around the perimeter of the island.
Shall We Come by Boat?

Inspired by a renowned Balinese artist, Ketut Soki, paintings that has underlaid symmetry layered with intricate ceremonial details, this is my interpretation from my personal desire and knowledge, as well as chats in last semester with a classmate who suggested that I should look at my thesis as being a tourist in my own country. This sketch depicts the low rise urbanism in Bali (building code that restricts 15m maximum height), as well as density that decreases as slope increases. Where is the edge? What grows where? What is the future of urban agriculture in Bali? How will Bali change in the face of digital economy and 2014 Village Law?
Sunset Market
"Nasinasi...!" Banyuasri Market in Singaraja opens from 5pm to 6am when the terminal closes. Terminal and market, what a compatible program combination!
Economies of North Bali

1. The agrarian life. Springwater flows by gravity and is distributed to irrigate wet farmlands. Not just rice, but also vegetables such as long bean, watercress, nuts, and chili, depending whether it is dry or rainy season. Development by gravity, not against it. Cyclical time, not linear. Wealthy, not poor. Built around the springwater is a temple.

2. The magnificent fruit gardens: durian, mangosteen, papaya, wani, among others, grow on both flat and steep slopes. They grow so closely to each other but remain fruitful - does this mean the soil is just super fertile? Certain species of trees are needed for erosion control. Raised irrigation canals can be seen on the side of the road.

3. Heritage craftsmanship. "For me, a promising future of my village is when the working youth can find jobs here they find worthy and meaningful. I plan to make a school that teaches the young how to make Gamelan. We can then promote our products online." - Ngurah Sedanta, 35 years old. Gamelan artisan, from 300 years lineage of Gamelan making in North Bali.Gamelan is traditional music instrument used for cultural ceremonies in Bali.
Uphill
Driving to Munduk from Singaraja, he tourist and farmer's gazes meet at the paved road at the highlands of Buleleng covered in cloves plantations.
Munduk: Where Cloves are Gold
Guardians of the Forest
Munduk villages are said to be guardians of the forest, for the forest manages the water reserves, which then flow downhill to be used for irrigation and consumption.
Gems of Tropical Life
From above, the landscape may be covered in cloves, but going inside, one can find diversity of productive plants for consumption or building structures, such as bamboo, chocolate, coconuts, tomatoes, herbs, bananas, et cetera.
Hello!
It's me! It was inside of the Munduk plantations that I felt my love for this place grew roots. This bamboo basket I carried was a memory from the amazing people I met a few days prior to arrival in Munduk. Inside are the fruits and vegetables that people have generously given me after conversing with them.
Sekar Bumi Flower Farm
Still in the highlands of Bali, this flower farm is completely owned and managed by the villagers of Sekar Bumi. Though located relatively far from tourism sites concentrated in South Bali, the flower farm is affected by tourism - just like all parts of Bali. With the recent activity of of Mount Agung Volcano, there were fewer demands of cut flowers for events, and fewer people who rent the pavilions for Yoga retreats.
Desires of City & Village
Driving downhill to the one and only city in Bali, Denpasar, one can see the transition of desires of city and village, which lead to exchange: The modern convenience of industrial products in the villages, and the fresh air in the city through the multitude of plant nurseries. As one drives downhill, one sees increasing and decreasing numbers of nurseries and kiosks.
Open Air
There are only two climates in Bali: the dry and wet seasons. Water and air can pass freely through the open layouts of living and working spaces. Life creatures also live in human spaces: plants, spiders, geckoes, bees, and chickens, among others
Live Drawing
Feeling like Degas, sitting at the corner of a Balinese dance studio.
Delightful Fruits
Which all grow on the island and made it to the breakfast table: watermelon, rambutan, pineapple. The banana leaf plate and frangipani flowers too, grow on the island.
Amed
Trip part II was accompanied by heavy rain. Arriving in Northeast Bali, Amed, we saw very little visitors due to proximity to the recently coughing volcano as well as the low season for diving, for which Amed is known for. The topography in Amed is steep with short distance to the coastline. From every homestay in Amed, one can see and feel close to the ocean.
Rain and Birds

Chirping of Jalak Bali (Leucopsar rothschildi), protected birds, can be heard among the rain while going through West Bali National Park.

Water in All Directions

The old stones covered in moss, along with the tropical foliages, were blurred through the rain and the smoking water in a beautiful green composition.
Storm Over Tirta Gangga
At the resting place of the king, one too, rested, sheltering from the heavy storm. A particularly strong and sculptural tree stood out in the grim strom.
Miniature Migrations
Driving along the perimeter of Bali and thinking about the vast ocean, one can think of the multitude of miniature migrations that have taken place throughout history.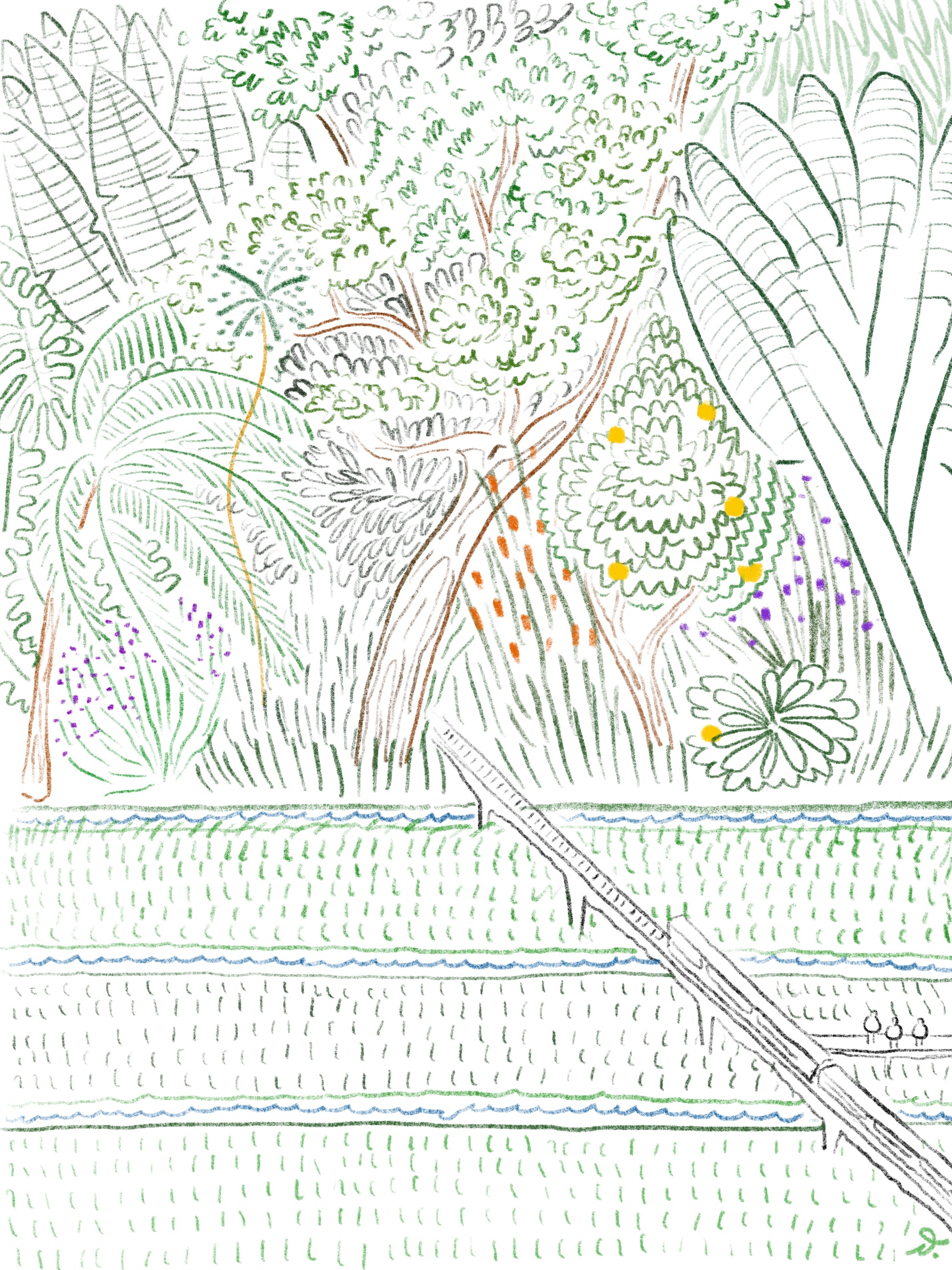 A Human's Landscape

Through and around, all of Bali has been mapped, just like the rest of the world. Yet one can still find many new things. Human's landscape keeps evolving.
---
© All works are copyright of Diana Ang. Please do not use without written permission of the author.