Happy International Women's Day!
03.08.2018
Spent the evening Potluck-ing with amazing friends in Architecture, Urban Planning, and Transportation ;-)
. . . . . . . . . .


Happy Chinese New Year, Year of the Dog!

02.16.2018
. . . . . . . . . .
Melancholy
02.01.2018
This series is dedicated to the experience of grief over losses of loved ones, among them my own loss, and good friends' father and and a baby.


. . . . . . . . . .
Vibrant Asia
01.04.2018
I'm currently on a 'Thesis Holiday' trip to Indonesia. Seemingly an oxymoron, I suppose I aspire to love what I do, so to enjoy the semester long thesis research ahead. I realized that no matter how much we care about changing the world, if our skills and passions do not match, it becomes torturous.
Urban design issues inherently carry a heaviness of mission to save, protect, or solve a social, environmental, and/or political problems. While this remains true, the approach can be more hopeful, and perhaps even playful. I hope to merge illustration and urban design to create a more personal way of representing my ideas (actually, the real motivation is that I really suck at renderings and am better at drawings, so I hope I can somehow combine or use this approach, hahaha). While traditional watercolor and line drawings may be seem obsolete, can digital drawing provide an alternative, or does the cartoony look kill it? In the art world, representation has moved from realism to abstraction, how about in architecture and urban design?
The first image is
The Urban Edge
. I spent 2 days in Hong Kong recently. This is a reaction to the idea of urban-suburban-rural transect image I saw in an urban theory class in my first year at MIT. In many places, Urban-Suburban-Rural has no transition, it is simply an abrupt edge.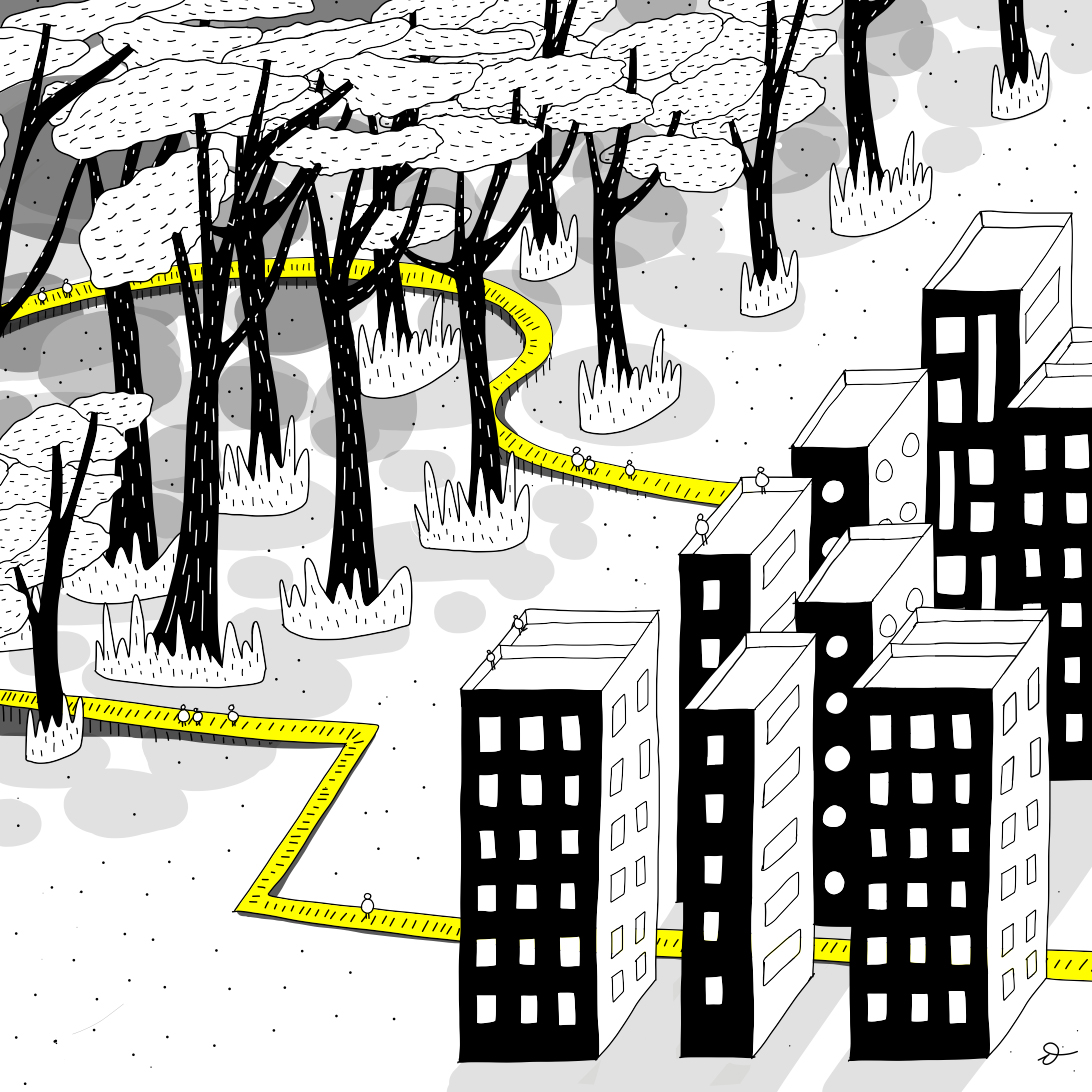 The second is a sketch depicting approach of Bali Island from the sea,
Shall we come by boat?
. Inspired by Ketut Soki's paintings that has underlaid symmetry layered with intricate ceremonial details, this is my interpretation from my personal desire and knowledge, as well as chats in last semester with a classmate who suggested that I should look at my thesis as being a tourist in my own country. This sketch depicts the low rise urbanism in Bali (building code that restricts 15m maximum height), as well as density that decreases as slope increases. Where is the edge? What grows where? What is the future of urban agriculture in Bali? How will Bali change in the face of digital economy and 2014 Village Law? these are some of the questions I hope to explore in the 10ish fieldwork days in Bali. They are not technical problems, they are poetic investigations, as one of my jurors said during the thesis proposal presentation.
On another note, I absolutely love the iPad Pro. It is truly a powerful tool and opens new ways to not just draw, but think. The ability to erase without exhausting the paper, the convenience of tracing through layers, speed of sharing online to get feedback, and array of brushes - all relying on the skill of the hand, are personally a mind opening experience. I could not get used to the speed and awkwardness of the lines, but today I tried the Procreate app and found a brush that matches my drawing style and speed ;-)



. . . . . . . . . .
Happy New Year, Cheers to Another Season!
12.31.2017
Made with Wacom Intuous3!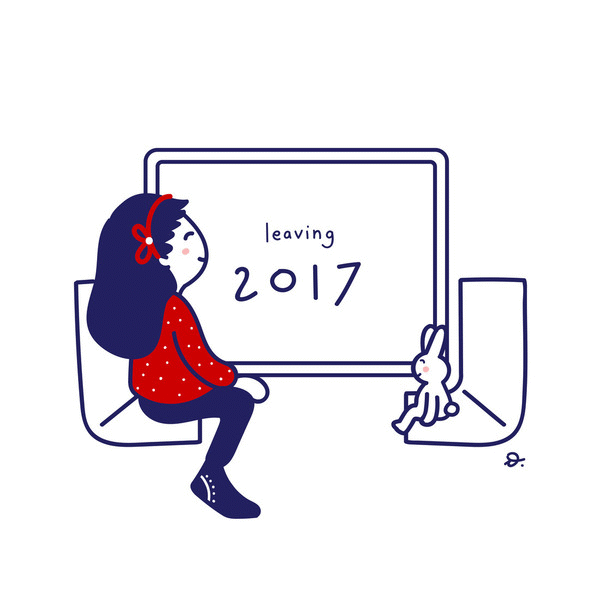 The Breakfast Table & Cloudy Trees
12.30.2017
I just got an iPad Pro 10.5" with the Apple Pencil yesterday! I had previously committed to get used to Wacom Intuous that I have owned since high school but rarely used, but the allure of drawing directly on a drawing surface and the thought of mobility in a month long travel in January to Asia convinced me to try. My Wacom is large than my laptop, making it hard to to set up a temporary workspace anywhere. But I don't want to sell it yet as I think I will need it when I transfer from concepts to detailed large works that rely on Photoshop/Illustrator, not available on iPad.
I'm still getting used to the slippery screen (compared to paper), but am excited by the ability to undo, rearrange layers, and quickly test out ideas with the touch of a hand (or a pen tip). As an amateur user of stylus, I don't see much difference of sensitivity between Wacom and Apple Pencil. For me, using the iPad means I bypass the process of going to campus to scan and post-processing in Photoshop, which means more time can be spent on the actual process of creating.
The Breakfast Table
(top) was made with Adobe Draw, and
Cloudy Trees
(bottom) was made with Adobe Sketch. They were inspired by my recent visit to Barnes Foundation in Philadelphia, where I saw a lot of Matisse & Renoir paintings. Side thought, what does the museum of the future look like when digital is the new medium?
. . . . . . . . . .
The Peaceful Swimmer
12.24.2017
Now that the semester is over, I finally got to try animation! I use illustrator, photoshop, and indesign to generate the frames. There are probably better ways to do this, but I just wanted to jump into it first. It helps that in the past few days I have been trying Wacom tablet pen - it makes it easier to trace previous frames through layers in Adobe Illustrator.


I tried something simple and took the
swimmer
to action, basically the parts that move can be grouped into legs, arms, and water. I exported combinations of legs and arms as separate pngs. I also created a separate set of pngs for the shadow.Then I placed them on InDesign and moved the swimmer manually (by constant increment).

All the layers were brought into inDesign: ripple, swimmer, swimmer shadow, and water.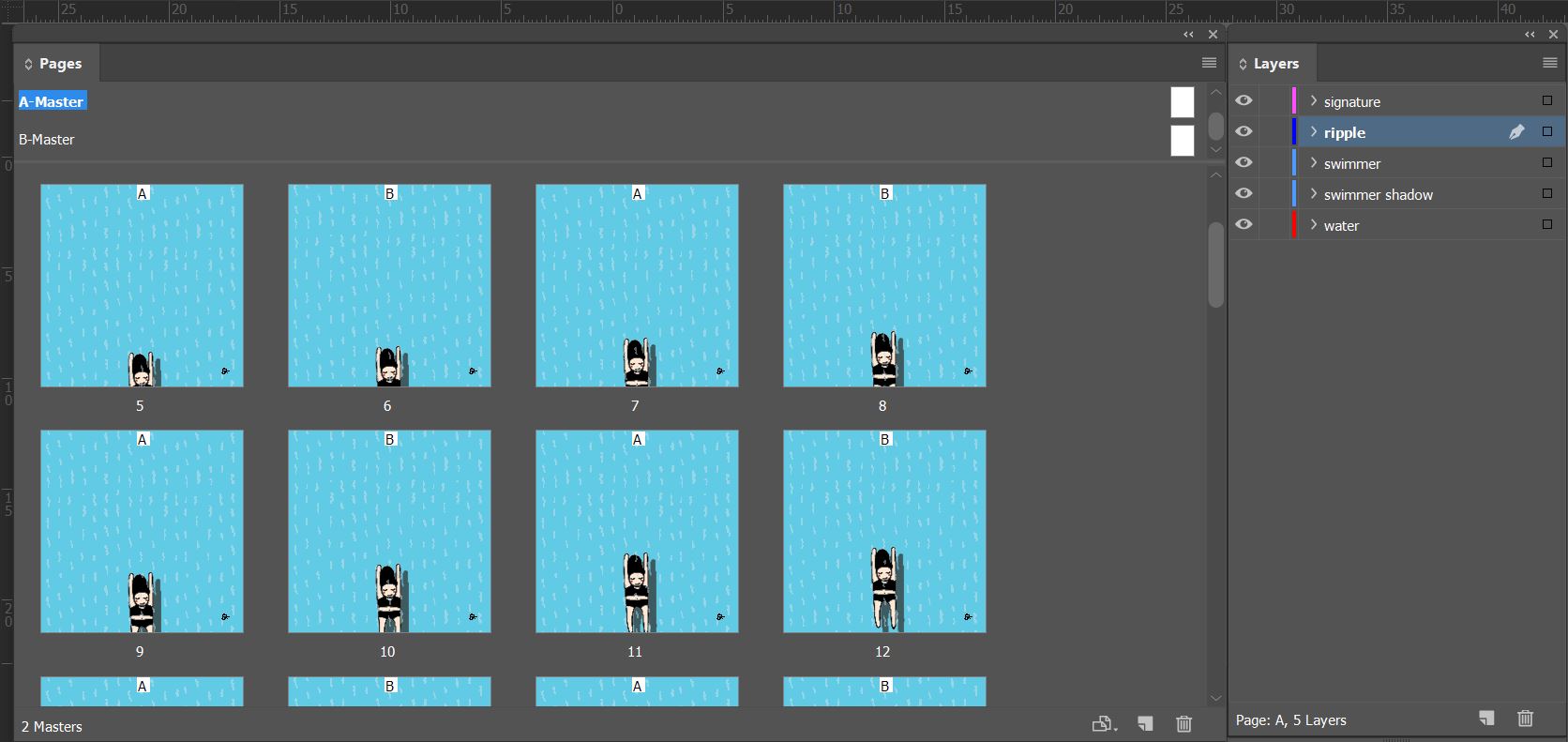 Last step was uploading it to website that automatically create downloadable gif or mp4 file.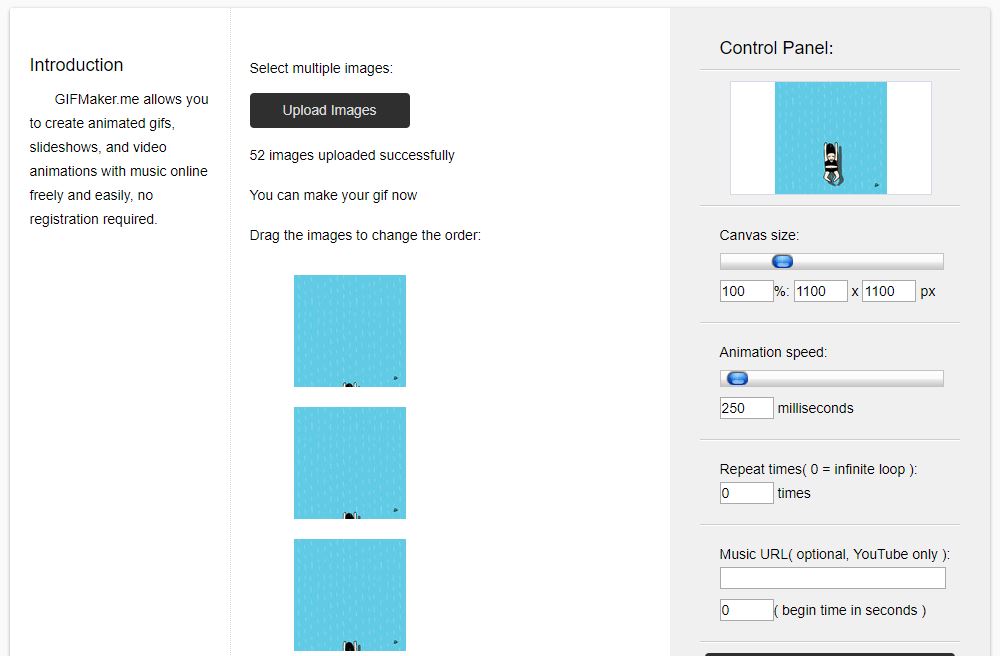 The whole process took 4-5 hours. If you know of better methods please please let me know :) Coffee on me.


. . . . . . . . . .
Rural Archipelago Series No. 3
12.02.2017
Recent conversations and readings brought memories of traveling in rural Indonesia. As a "Java" person (having grown up in Jakarta) traveling to rural Indonesia ("pedalaman" as we refer it) means heapload of inconveniences of having to change airplanes, which are smaller as one goes into the deeper rural, therefore more prone to weather changes. Alternatively, one may travel by boat. But the schedule is unreliable, as I read accounts of people who wait for Pelni ship that gets delayed for more than 24 hours. Also, it is not uncommon to hear of disappearing boats in this area due to treacherous weather.
East Indonesia is separated by vast oceans, but you could also say they are united through it, and this is perhaps where the change of perception needs to take place. To say that it is difficult to develop infrastructure in rural Indonesia due to its mountainous terrains or separation of small islands through ocean may be simply the result of trying to impose our ways of thinking in Java or other major cities on a different nature, or perhaps even a lack of imagination or creativity.
Two examples come into mind. First, is the
floating hospital by Dr. Lie Dharmawan
. The residents of small islands cannot afford to buid their own hospital, so the hospital comes to them. When I first heard of Dr. Lie, I only knew of his raft clinic, which is limited in its service and distance it can travel. Recently I found out from a friend that he has been retrofitting a full ship, which then can sail and hop between islands in the wilder oceans of Maluku. Second is
Susi Air
, an aviation business co-established by Susi Pudjiastuti, serving the most remote islands of Indonesia. The planes are small, some can even land on water, so it doesn't need a long, flat area to land as most airlines do. One may be familiar of Garuda Indonesia, but when you go to remote Indonesia, Susi Air is everywhere.
Perhaps, then, strengthening the infrastructure of rural Indonesia can start by simply making safer and better boats or small planes - strengthening what is already there and working. Then these areas do not need to build large airports. Google internet baloon also comes to mind, along with micro-hydro power generator. So the intervention is not on the land, but on the water and air. How can we rethink this in terms of urbanism? What can one do as an architect, as a spatial planner and designer?
The Rural Archipelago Networks
. . . . . . . . . .
Rural Archipelago Series No. 1 & 2
11.29.2017
Each person has a different way of 'design thinking'. In the context of architecture, one can think through the process of making a physical model out of materials, digital model, sketches, and text. Through our education, we are taught to do all of the above, as they bring different dimensions of our ideas to live. I think drawing comes most natural to me, so the few next drawings were aimed to flesh out my ideas on the countryside (in relationship to my master's thesis). When I use drawing to think, I often don't exactly plan what to draw. I just start somewhere on the paper, then the idea evolves and expands fluidly. Sometimes they are not even design ideas, but a way of looking at things and/or re-evaluating what I value. Sometimes I also just draw what I want to draw, and make meaning out of it during the process, or even after. I don't think this is 'faking' meaning. Like music or food, you don't know its meaning to you until you taste it.
The first one is something that has been on my mind lately, the volcano eruption in Bali. There are three volcanoes in Bali. The erupting one is Mount Agung, the tallest volcano on the island. Located on the easternmost side of the island, the southern side is not physically affected, although the closing of the airport has created dent in the tourism sector, bringing many businesses to anxiety. But it is also interesting to remember that the volcanic soil is what allows the incredible
terasering
, or the stepped paddy cultivation - the heartbeat of economic and tourism of Bali - to happen.
Mount Agung Eruption
The second one is about a longing for the most beautiful places in rural Indonesia to be publicly accessible, and publicly accomodating. Too often when we see something beautiful we want to possess it. If we can possess sunset, we would, like in Seno Gumira Ajidarma's "
Sepotong Senja Untuk Pacarku
" ("A Slice of Sunset for My Girlfriend" - it didn't end well for the whole world). But what happens if these places can become moments of reflection of the land we belong to as human species, the earth?
Bring Me Back the Commons